Modern Wedding Invitations
Here's a sample of our best selling wedding invitations and cards. Some are trendy and modern, while others are simple and classic.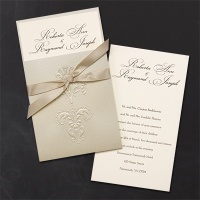 Embellished
An embossed flourish and a pretty ribbon are the perfect embellishments! The embossed, gold shimmer wrap surrounds an ecru inside card printed with wording as shown.
$389.00 per 100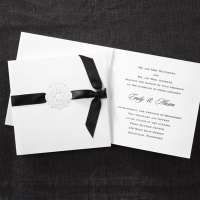 The Gift
A detailed round pearl design is centered on the front of this invitation with a black satin ribbon streaming through it.
$385.00 per 100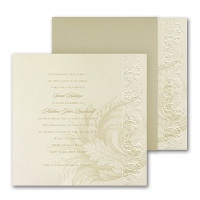 Golden Splendor
Feathery flourishes of gold and embossing adorn this ecru shimmer card when it is removed from the gold shimmer pocket.
$374.90 per 100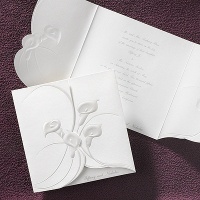 Ultimate Calla Lilies
A white, gate-fold invitation features an embossed, pearl, calla lily design.
$254.00 per 100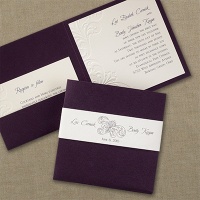 Raisin Flourish
A raisin pocket features your invitation and a place to put your enclosure cards.
$350.00 per 100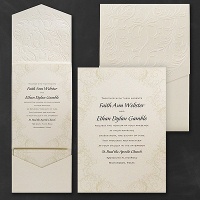 Baroque Brilliance
From the ecru shimmer pocket to the baroque patterned invitation, classic elegance is at its peak.
$393.90 per 100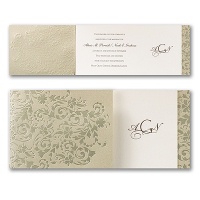 Golden Style
This golden invite features a golden wrap with a filigree design! The tea-length, ecru invitation card has the bride and groom's three initials and the wedding date printed on the right hand side with the rest of your wording placed on the left side under the wrap.
$291.90 per 100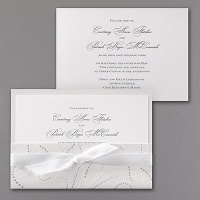 Shimmer Vines
Create a layered invitation with this bright white card tucked inside an elegant, pearl, shimmer pocket wrap tied with a white satin ribbon.
$287.90 per 100
Shimmering Swirls
Make a statement to your guests with these shimmering ecru invitations. The front features an abundance of debossed swirls with your names featured at the right.
$192.90 per 100
Home
Copyright © 2019 Somethingnewinvitations.com - All Rights Reserved - Date: 11/20/2019